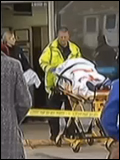 More news of crimes targeting Asian Americans... Last week in Cheltenham, Pennsylvania, an Asian business owner was followed, assaulted and robbed outside a bank:
Cheltenham holdup was ambush, police say
.
55-year-old Peter Ly was ambushed by three men who were waiting for him on his way to make a deposit. When he resisted, they shot him and made off with a satchel filled with thousands of dollars. Fortunately, he wasn't seriously hurt.
According to police, it's likely that Ly was targeted, though they're unwilling to say at this point whether or not his race had anything to do with the attack. But come on. Considering recent robberies in the area, it's not out of the question:
Police said Wednesday they were unsure whether Ly's race had anything to do with the attack. But for some, the crime was unnervingly similar to a rash of robberies targeting Asian American business owners last year.

In a three-month span beginning in June 2010, burglars broke into more than a dozen Asian-owned homes in Philadelphia, Delaware, Chester and Montgomery Counties, stealing thousands of dollars in cash.

The attackers later told prosecutors they specifically targeted their victims because they believed Asians mistrusted banks, kept large sums of cash in their homes, and were unlikely to call 911.

The FBI and the Philadelphia Police Department formed a task force in response to the home invasions to reach out to the Asian American community.

But unlike many of the victims in that spree, Ly was a regular bank customer, Frye said. He was on his way to make his weekly business deposit at Woori America - which markets to Korean American emigrés - when he was attacked.
The robbers are described as three black men last seen driving toward Philadelphia in a black Volvo S20. Anyone with information about the crime is urged to contact Cheltenham police at 215-885-1600. More here:
Robbers Shoot Man, Steal Bank Deposit: Cops
.