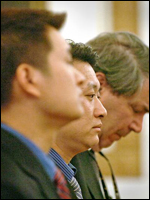 In Boston, two brothers have been found guilty of manslaughter and other charges for the death of the three people who perished when their apartment caught fire in March 2009:
Huang brothers found guilty of manslaughter in fatal Quincy apartment fire
.
Oudah Moshah Frawi and his two young sons were killed in the illegal basement apartment kept by Andy Huang and Jason Huang. The apartment had only one exit, rather than the two required, and no smoke detectors -- all in violation of Massachusetts' enhanced fire ordinances:
Killed in the early morning fire on March 25, 2009 in the building at 100 Robertson St. in Quincy were Iraqi immigrant Oudah Moshah Frawi, 39, and his sons, Ali, 1, and Hassan, 2 months old.

Frawi's wife, Terri Knight, was seriously burned and lay in a coma for weeks. She moved out of state but returned to Massachusetts to testify during the trial. She was not present for today's presentation of the verdict, however.

Thirteen people in five families who were living in the 2 1/2-story building were able to escape the blaze, started by a faulty lamp that ignited a couch in the basement at about 3:15 a.m., fire officials said. The basement had several windows, but they were so small that a young child would have been unable to fit through their opening, officials said.
The Huangs were charged with three counts of manslaughter, each carrying up to 20 years in prison. They're scheduled to be sentenced next week.
Damn. It makes you think about how many illegal apartment units are just like this, and face similar risk in a fire. More here:
Jury finds landlords guilty of involuntary manslaughter in Quincy apartment fire
.