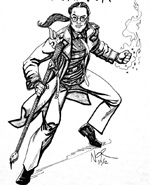 Got this recently passed along to me, and it looks like a pretty cool opportunity for Lao American writers... Some folks are putting together the very first full-length anthology of
Lao American speculative art and literature
.
Come on, nerds. This is for you! Sci-fi, fantasy, horror, etc. They've put the call out for original stories, poems, plays and experimental literature, as well as visual art. Here are some details on what they're looking for:
Approaching 40 years in the US, there are many Lao Americans who love science fiction, fantasy, horror, myths and legends.

Now Lao American writers are looking your stories and art for the very first full-length anthology of Lao American speculative art and literature. Their goal is to publish it later this year.

Whether it's a story of Lao astronauts in a distant future, nak in ancient Lan Xang, the missing adventures or Xieng Mieng, or wild weretigers and kinnali in a Laotown filled with superheroes and time-traveling silapin cyborgs, they want to hear about it!

Organized by Lao American writers Bryan Thao Worra and Saymoukda Vongsay,
the anthology aims to examine how Lao look at the fantastic and articulate a vision of the future in the wake of the Lao diaspora.

They are seeking original stories, poems, plays and experimental literature. Visual artists are also encouraged to apply.
The deadline to submit is January 31, but if you need an extension you can probably work something out. For further information, email Thao Worra at Thaoworra@gmail.com or go to the Laotian American Writers Society blog
here
.