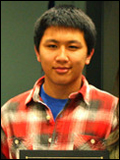 Some tragic news out Rancho Bernardo, California, where community members are shocked over the sudden death of a popular high school student:
RB High Mourns Sudden Death of David Hu
.
17-year-old David Hu, a top-ranked college-bound honors student, was found unconscious by family members early Thursday morning, taken to a nearby hospital and pronounced dead. The cause of his death is still undetermined:
Rancho Bernardo High School is mourning the sudden death of academic standout senior David Hu, 17, who died suddenly Thursday morning, the principal said.

"We found out early yesterday morning that David Hu had passed away early that morning, somewhere around 5 a.m.," Principal Paul Robinson said. "(His) brother went into his room and found him and they called 911. They tried to revive him."

According to the San Diego County Medical Examiner's Office, Hu was pronounced dead at Pomerado Hospital at 6:47 a.m. Thursday after paramedics, following unsuccessful revival attempts at his home, transported him there. A cause of death has not yet been determined, pending autopsy, an investigator said.
Talk about a bright future cut short. Hu was an academic standout who earned a perfect 2400 score on his SAT and had just been accepted to MIT. More here:
Rancho Bernardo High student dies Thursday after collapsing at home
.