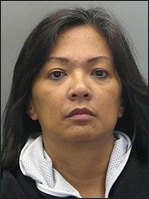 Remember that awful story out of Virginia about the woman
convicted
of murder for tossing her 2-year-old granddaughter from mall pedestrian bridge? Last week, she was sentenced to 35 years in prison:
Va. woman gets 35 years for fatally tossing granddaughter off mall walkway
.
Guilty of first-degree murder, 51-year-old Carmela dela Rosa was given the maximum sentence. I can't fathom what could drive an individual to do something so horrifying. dela Rosa was apparently angry that her daughter had gotten pregnant out of wedlock:
rosecutors said dela Rosa was a "spiteful, angry and jealous" woman who was infuriated that her daughter had gotten pregnant out of wedlock. They said she killed Angelyn to get back at James Ogdoc, who was the focus of her fury. She later admitted in a videotaped interview with police that she had plotted to kill Angelyn while her family enjoyed an outing at the mall.

Deputy Public Defender Dawn M. Butorac argued that dela Rosa was suffering from a major depressive disorder, which sent her into a "downward spiral." Dela Rosa's thinking was so clouded by mental illness she didn't fully comprehend what she was doing, Butorac said. Dela Rosa entered a plea of not guilty by reason of insanity.

After seven days of testimony, the jury deliberated for six hours before returning a guilty verdict. It recommended a sentence of 35 years in prison.
On one hand, you've got her defense blaming the murder on the mental illness. On the other hand, the prosecution said it was simpler than that -- she's just evil. Either way, just thinking about this case gives me the chills. And in the end, none of this is going to bring back Angelyn Ogdoc.