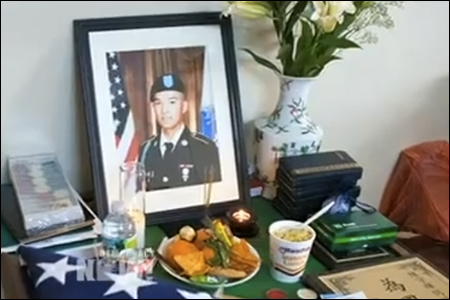 If you can stomach it, here's some more information on the racism hazing and physical abuse Private Danny Chen had to endure from his so-called comrades while serving in Afghanistan, before he ultimately took his own life.
Democracy Now! has posted an interview with Liz OuYang of OCA-New York:
Death of Private Danny Chen: Military Admits Chen was Target of Race-Based Hazing on Daily Basis
. Here's the
video
:
An excerpt from the transcript:
AMY GOODMAN: Lay out the details that the military laid out to you.

ELIZABETH OUYANG: Basically, they said that he was subjected to excessive push-ups, sit-ups, flutter kicks, running sprints carrying sandbags. He was made to crawl with all his equipment across gravel. He was placed in a simulated sitting position while soldiers used their knees to kick his legs. Rocks were thrown at him to simulate artillery coming at him. He was subject to racial slurs, like "chink," "gook," "dragon lady." He was made to perform excessive detail, work details, and guard duty. He had to perform push-ups with mouthfuls of water that he couldn't spit out or swallow. And then, within two to three weeks of his death, he was ordered to put on a green construction hard hat and given—and to give directions to soldiers on how to put up the tent in Chinese. Danny was the only Chinese American in this platoon. Nobody spoke Chinese other than Danny.

And a week prior to his death, on September 27th, one sergeant dragged Danny from his bed across about 50 meters of gravel and told that he broke the hot water pump. He had bruises and cuts on the back—on his neck and back. And then, on the day of his death, October 3rd, he was scheduled for guard duty, and he had forgot his helmet and needed additional water. They made him go back and get it. And then they made him crawl over about a hundred meters of gravel while other suspects threw rocks at him. And then, shortly, that morning at 11:13 a.m., a shot was heard in the guard tower, and Danny was found lying flat with his rifle next to him, according to investigators.
No matter how many times I hear or read about the abuse Private Chen had to endure, I can't shake the sick feeling that wells up in the pit of my stomach. It's infuriating, but what really upsets me is thought of how alone Danny must have felt in the last moments of his life. His family must see justice.
For further information, including both the video and audio stream of this interview, and the full transcript, go to the Democracy Now! website
here
.