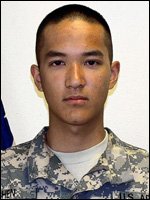 What the hell? A military investigator has suggested that the most serious charge be dropped against one of the soldiers implicated in the death of Private Danny Chen, who suffered weeks of hazing and abuse before taking his own life while serving in Afghanistan:
Most Serious Charge in a Private's Death May Be Dropped
.
Officials recommended 32-year-old Specialist Ryan Offutt face thirteen charges, including assault, negligent homicide and reckless endangerment. But after a pretrial hearing, the investigator concluded that the charge of involuntary manslaughter be dropped:
Specialist Offutt is one of eight soldiers charged with an array of crimes in connection with the death of Private Chen, 19, whose body was found in a guard tower on an American military base in Afghanistan on Oct. 3.

In addition to Specialist Offutt, four others have also been charged with involuntary manslaughter, which carries a maximum penalty of 10 years confinement and a dishonorable discharge, a military spokesman said.

Representatives of the Chen family, who have expressed concern that the military would not investigate the case thoroughly, criticized the investigating officer's recommendation.
I don't know all the details about what went down when these assholes abused the hell out of Danny Chen, and I don't know what reasoning went into the investigator's recommendation. But what I do know makes me so angry, these guys can all rot in jail for the rest of their lives.
But if found guilty in a court-martial on all the charges against him, Specialist Offutt faces a maximum punishment of more than 23 years of confinement, reduction in rank and a dishonorable discharge from the Army. Here's hoping the brigade commander forwards all the charges. More here:
US Army Panel Advises Trial In Suicide Death Of Pvt. Danny Chen
.
UPDATE: They've dropped the manslaughter charge against Ryan Offutt. He will be court-martialed on negligent homicide and other counts, but not manslaughter:
Army drops manslaughter charge against 1 soldier accused in Danny Chen's death
.