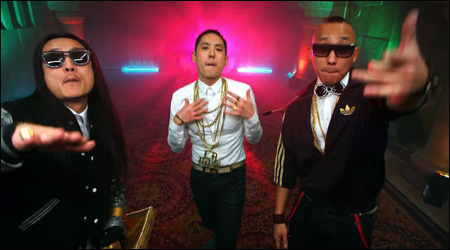 Far East Movement just dropped the official new music video for their single
"Jello"
featuring Rye Rye, in which they ambush a stuffy gathering -- with Oprah and Obama lookalikes in attendance -- and drop some of that dirty bass to get the party started. Yeah, it's silly as hell, but it's fun. Take a look:
Took a while for me warm up to this song, but I'm digging it. I also think one's enjoyment of this track has a lot to do with whether or not you're on the dance floor when it drops. That, or inside a car with some
serious
speakers.
To follow along with the further musical misadventures of Far East Movement, check out the group's official website
here
.