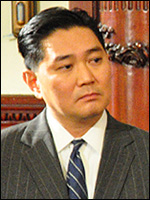 Out of New Jersey, more news of a historic Asian American judicial nomination... Earlier this week, Governor Chris Christie nominated Phillip H. Kwon to the state Supreme Court:
North Jersey Koreans welcome state Supreme Court nomination
.
If confirmed, Kwon would become the first ever Asian American justice on New Jersey's Supreme Court, as well as the first immigrant to serve on the court since 1947. Kwon currently serves under Governor Christie as first assistant attorney general. Here's some more information on his background:
Kwon is currently the state's First Assistant Attorney General where he has been the principal legal and strategic adviser to the Attorney General, according to a press release from the Governor's office. Previously, he worked for New Jersey in the United States Attorney's Office as the Deputy Chief of the Criminal Division, the Chief of the Violent Crimes Unit and the Assistant U.S. Attorney of both the Special Prosecutions Division and the Criminal Division.

He has been the lead prosecutor on several federal crimes and public corruption matters, in addition to taking on cases against some of New Jersey's gangs, including the Bloods, Crips, and Latin Kings, according to the governor's release.

Kwon graduated from Georgetown University and from Rutgers Law School where he was an editor of the Law Review.
Considering New Jersey's rapidly growing Asian American population, Kwon's nomination has been a long time coming. Isn't it about time?
Christie also nominated Bruce Harris, the mayor of Chatham, who would be the third African American to serve on the State Supreme Court and the first openly gay member of the Court. More here:
Christie Names a Gay Man and an Asian for the Top Court
.