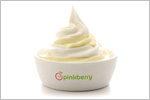 Um, what? In Los Angeles, of the founders of the popular Pinkberry yogurt chain has been arrested on an outstanding warrant for assault with a deadly weapon:
Pinkberry co-founder Young Lee arrested on assault warrant
.
47-year-old Young Lee was taken into custody at Los Angeles International Airport by the LAX Fugitive Task Force, in connection with an alleged assault that took place last June. Didn't know fro-yo was so gangsta, did you? [UPDATE: Turns out, Lee is accused of chasing down a homeless man and
beating him with a tire iron
.]
The incident took place in June 2011 on an off-ramp of the Hollywood Freeway at Vermont Avenue, according to the Los Angeles Police Department. Young Lee was stopped at a light when he was approached by a transient seeking money, police said.

Words were exchanged, and Lee and another man in the car chased the homeless man and "beat him down" with the tire iron, police Capt. Paul Vernon said.

"This case is emblematic of how the homeless are among the most vulnerable in our society," said Vernon, commanding officer of the Central Detective Division. The extent of the homeless man's injuries hasn't been disclosed.

Detectives spent several months probing the case against Lee, who was in South Korea for part of that time.
I was kind of amused to learn that in a former life, Lee was a kick boxer turned architect... turned yogurt shop entrepreneur. And now he's got an arrest record. More here:
Pinkberry co-founder beat homeless man with tire iron, LAPD says
.