Yo, Is This Racist? 2 Broke Girls and the New Long Duk Dong We Never Asked For
: Andrew Ti, the guy behind "Yo, Is This Racist?" says Han Lee on
2 Broke Girls
fulfills "basically every possible Yellow Panic stereotype with an actually fairly impressive level of thoroughness."
Opinion: What the deaths of two soldiers say about anti-Asian bullying
: Jeff Yang's CNN piece on how the shocking deaths of Private Danny Chen and Corporal Harry Lew have raised new questions about hazing in the armed forces -- and how "hazing" isn't even the right word for what they experienced.
What Chinese New Year Means to My Body Image
: Our friend Lisa Lee, co-founder of Thick Dumpling Skin, recently contributed a candid BlogHer post about Lunar New Year, food, and her ongoing struggle with body image.
The Shit Girls Say meme: friendly prejudice, but prejudice all the same
: "The Shit X Says to Y videos are delightfully validating because they show that those with the genuinely lovely intentions of being your friend and seeking commonality with you can still be rude and hurtful."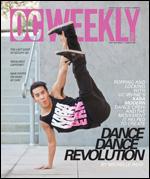 Kaba Modern Created a Dance Dance Revolution
: Check out Michelle Woo's
OC Weekly
cover story on UC Irvine's Kaba Modern dance crew and the incredibly popular movement it helped create.
No Asians!
Alexander Chee writes about navigating the pitfalls of pervasive and blatant anti-Asian sentiments in online hookup sites.
Clarissa Wei: An American in disguise in rural China
: "The concept of being an American who is ethnically Chinese has not yet trickled down to rural China."
Reflections on MLK: An Asian American Perspective
: Karen K. Narasaki, President and Executive Director of Asian American Justice Center, reflects on the civil rights legacies of not only Martin Luther King Jr., but also Gordon Hirabayashi and Franklin Fung Chow.
The Story
: "We all have one, a narrative about how we came to America, how someone in our family made a choice to leave a home in one country and create a new one in another. While each of these stories is fleshed out with common elements, it is the details that make it unique to our personal experience."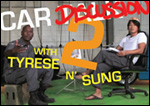 So Sorry - Sung Kang's 'Car Talk' Apology
: YOMYOMF has been forced to rename and re-edit
Car Talk with Sung Kang
due to legal ramifications with National Public Radio's own automobile-themed show of the same name.
Photographer Corky Lee: Caught In The Act
: Brooklyn Independent Television's
Caught In The Act
interviews photojournalist Corky Lee, who has been called Asian America's "undisputed, unofficial photographer laureate."
Top Chef's Beverly: I Stood Out Like a Sore Thumb
: An interview with chef Beverly Kim, who talks about getting booted off the latest episode of
Top Chef
.
Reflections on saying goodbye to a restaurant - and looking ahead
: San Francisco chef Dennis Lee reflects on the recent closing of Namu, and what the restaurant meant for him, his family and the community.
Where Koreans Go to Reunify (Hint: It's Not the Koreas)
: This is a fascinating article on Pyongyang, a rapidly expanding chain of restaurants owned by the North Korean government, with outlets in Bangkok, Jakarta, Pattaya, Phnom Penh, Siem Reap and Vientiane.