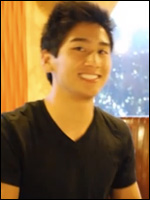 Some tragic news out of Orange County, where a college student committed suicide by jumping from a parking structure at UC Irvine:
Man found dead at UC Irvine identified
.
The student was identified as 18-year-old Andy Chau, a UC San Diego freshman who was visiting a friend at UCI. According to authorities, he apparently jumped from the seventh floor, and was found by students on the road near the parking structure late Sunday night:
A Santa Ana man who jumped to his death from a UC Irvine parking structure has been identified by the county coroner.

Andy Chau, 18, jumped from the seventh level of the Social Sciences Parking Structure shortly after midnight Sunday, according to the coroner.

Chau died at the scene, according to Supervising Deputy Coroner Daniel Aikin.

Chau, a freshman at UC San Diego, was visiting a friend at UCI, said campus spokeswoman Cathy Lawhon.
My sincerest condolences to the loved ones of Andy Chau. More here:
Coroner identifies student who jumped to his death at UCI
.
UPDATE:
OC Weekly
notes that the Orange County coroner has changed its official press release to simply say that Chau was "found next to a parking structure" -- not "jumped from a parking structure," as originally stated. The investigation is still ongoing. Man, I hope this story doesn't get worse.