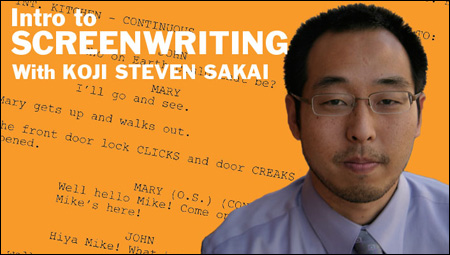 This is for all you aspiring screenwriters in Los Angeles -- and I know there are a lot of you. Visual Communications is partnering up with Koji Steven Sakai to present another ten-session course on the art and craft of writing a screenplay:
Intro to Screenwriting with Koji Steven Sakai
.
Koji graduated from USC's Masters of Professional Writing program and has written two feature films:
Haunted Highway
, co-written with Naoko Ihara Witmer and director Junichi Suzuki, and
The People I've Slept with
, directed by Quentin Lee. Here are some more details on the class:
INTRODUCTION TO SCREENWRITING WITH KOJI STEVEN SAKAI

SCHEDULE: Saturdays from February 4 through April 7, 2012; 10:00 AM to 12:00 PM

TUITION: $400 VC Members | $495 for non-members

Visual Communications is please to once again partner with Koji Steven Sakai to bring you a ten-session course on the craft of screenwriting. Students will learn proper formatting and structure as well as how to create effective plots, characters, and dialogue – all the necessary techniques to draft a first screenplay. As a bonus, the final class will be dedicated to the business of screenwriting and making it in the industry.
Classes begin on February 4. Space is limited, so sign up now. For further information about the course, go to Visual Communications' website
here
.