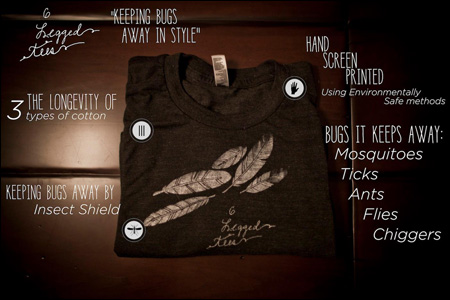 I get
a lot
of Kickstarter campaigns sent my way. Sometimes the pitches are cool, and sometimes they're pretty weak. This one's fun and different for the outdoors-y folks:
6 Legged Tees
. Keep bugs away in style, yo.
Co-founded by Wenny Ng, they're making t-shirts using Insect Shield®, which provides invisible, odorless and built-in protection against bugs. Built in to the shirt! Whaaaat? Here's a video with some more information:
And here's some more information about what they're doing:
Since we love going outside and also really hate bugs, we wanted a simple solution for avoiding those pesky six legged creatures. Fortunately, we discovered Insect Shield®. Using a patent-pending technology to bind permethrin to clothing, it provides effective, invisible, odorless, and built-in protection against all sorts of bugs. The treatment lasts for 70 trips through the laundry machine.

Although we'd take a plain ole t-shirt any day if it kept bugs away, we really wanted a shirt we could wear that would be effective at repelling insects AND stylish. We searched all over looking for shirts to fit our needs but couldn't find anything! So we took matters into our own hands and started 6 Legged Tees.

We went with American Apparel's Tri-Blend t-shirt for a super comfy tee that would look great on anyone. We are printing designs by hand silk-screening each shirt using organic inks and ensuring our processes are good for the planet. We also strongly believe in giving back so once we launch our online store, we will be donating a portion of our proceeds to a worthy cause (most likely partnering with a non-profit who is working to eradicate malaria)
Right now, they're trying to raise the funds necessary to meet minimum order quantities and get the word out about 6 Legged Tees. For more details, and to make a pledge, go to Kickstarter
here
. And for further information about 6 Legged Tees, go
here
.