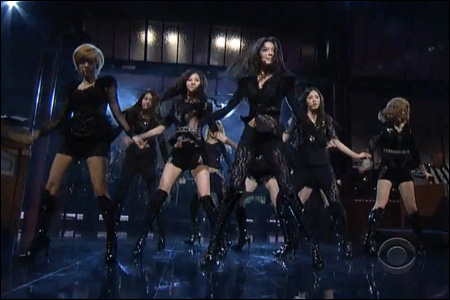 I honestly can't call myself much of a fan of Kpop, but I heard that South Korean pop supergroup Girls' Generation was going to be making their official American network television debut on
The Late Show with David Letterman
.
I couldn't name a single member of the group, or identify any of their songs to save my life, but I thought why the hell not? So I tuned in. And I was thoroughly underwhelmed. Here's the
video
of Girls' Generation performing "The Boys":
Seriously, this is the kpop takeover? Still, it was quite a sight. Nine of these girls looking hot, black lace everywhere, and just barely fitting on the
Late Show
stage. I think it probably blew some minds in average TV viewer-land.
I'm not saying they sucked. I'm not trying to incur the wrath of the k-pop-crazy masses, but sonically, it was just not happening. But I can certainly acknowledge the significance of seeing this bunch do their thing -- and doing it like pros -- on a mainstream national broadcast. That's big.