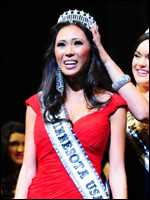 Well, what do you know? This is kind of old news, but I was recently informed that last December, 26-year-old Nitaya Panemalaythong was crowned Miss Minnesota:
New Miss Minnesota is first Asian-American to hold title
.
I'm not too crazy about beauty pageants (or anything related to Donald Trump), but this is a fairly significant milestone. Panemalaythong, whose family is from Laos, will be the very first Asian American to represent the state at the Miss USA pageant.
Here's a recent Q & A with Ms. Panemalaythong, courtesy of Little Laos on the Prairie:
10 Questions for Miss Minnesota USA 2012
.
Minnesota is home to the third largest Lao community in the US. How do you intend to connect with the community and share your experience of being Lao American in the Midwest?

I would like to attend the Lao New Year festival that Minneapolis will have and start there. However, word spreads fast within the Lao community so I think it has already gone beyond the Midwest. I've gotten so many wonderful comments and numerous congratulations from so many people from all over the US and all over the world on Facebook and on my Miss Minnesota USA email. So through technology (can't really live without it these days!) and appearances I hope to share my experience with those who are interested from all over the world and hopefully be a role model for not only the Lao community and young ladies but really for anyone who has a dream of wanting to achieve whatever it is they set their mind to.
More here:
A quest fit for a queen
.