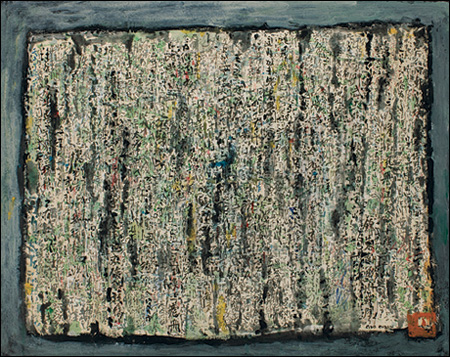 For art lovers in Southern California... Monterey Park's
Vincent Price Art Museum
is currently showcasing the work of five multi-tasking Angelenos in the exhibit
Round the Clock: Chinese American Artists Working in Los Angeles
, running through May 25.
These artists held down legit professional jobs and created collections of paintings, sketches, and photographs on the side, all while living through all the social changes Chinese Americans faced in the aftermath of World War II. More information:
'Round the Clock: Chinese American Artists Working in Los Angeles

EAST LOS ANGELES COLLEGE
301 Avenida Cesar Chavez, Monterey Park California 91754-6099
TEL: 323 265-8841

'Round the Clock features five Chinese American artists, Tyrus Wong, Milton Quon, Jake Lee, George Chann, and John Kwok, who worked in Los Angeles as commercial artists, designers, and illustrators. They created art for award-winning films, magazine illustrations, advertisements, murals, portraits, and greeting cards. Each artist used his time off-the-clock to build a fine art career.

The exhibition explores the art and lives of these five Los Angeles-based artists through more than 100 works, including paintings, watercolors, preproduction sketches, drawings, sketchbooks, photographs, and film clips.

Exhibition-related programs include a Curator Walk-through on Saturday, March 3, 2012 at 2:00 p.m. and a Panel Discussion (guests TBD) on Saturday, April 14, 2012 at 2:00 p.m.

A full-color, 85-page catalog featuring artist biographies and examples of their work will be available for $25.
Round the Clock
Is part of the Getty's
Pacific Standard Time: Art in L.A. 1945-1980
, a massive regional art initiative. If you're curious about the selection of this particular show,
Huffington Post interviewed the curator, Sonia Mak.
It's worth a read.