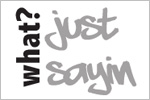 What the f#$% is a "squintey"? Several people have sent word my way about some slur-or-not-slur controversy that's been going down at Iowa State University.
The uproar surrounds a recent item published in "Just Sayin,'" a regular column in the
Iowa State Daily
newspaper featuring anonymous reader-submitted observations. Last week, it seems that some racial slurs found their way into the column:
Racial slurs in Daily reveal racism at Iowa State
.
The February 21 edition featured some unsavory uses of the term
"squintey."
When you read that word, what do you think it means? Yeah, me too. Some students thought the same thing, and made sure their objections were heard:
Monday's meeting was composed of 12 Asian-American students, one Caucasian student and one African-American student. The students were joined by the Iowa State Daily's Editor-in-Chief Jake Lovett, the Daily's editorial adviser Mark Witherspoon, Vice President of Student Affairs Tom Hill and myself.

The students came forward to express their disappointment in the Daily for publishing two "Just Sayin" comments referring to a "squintey" in last Tuesday's paper. The uproar over the publication of the comments has ignited discussions on racism at Iowa State and has caused the Daily to stop publishing "Just Sayin" comments.

The two "Just Sayin" comments in question, like all other comments, were submitted by the public and chosen by employees in the Daily's advertising department. The employees said they thought the two mentions of "squintey" referred to ground squirrels.

"Squinny" is what some people in Des Moines and nearby areas call ground squirrels, according to "Western Folklore," a book by Gary N. Underwood.

However, many in the ISU community said the term "squintey" can have a much more sinister meaning - one that demonstrates and could possibly reinforce racism against Asians and Asian-Americans.
A coalition of Iowa State students, faculty and staff sent this letter to the
Daily
, protesting the "Just Sayin'" column in question:
Letter to the editor: Racial nature of "Just Sayin" comments shows prevalence of prejudice
:
We are responding to the racially insensitive remarks towards Asians and Asian Americans published in the "Just Sayin'" column in the Feb. 21 issue of the Iowa State Daily. The statements - "Just had a staring contest with a squintey. They are fearless" and "I just saw a squintey inside the building...they have started the invasion" - have raised concern among many ISU students, staff and faculty. Our intent in writing this letter is similar to the Daily's mission statement to empower students and educate the community. As members of the ISU community, it is hard for us to accept the racial slurs that were published in the Daily. Asians and Asian Americans are more than stereotypes.

You may think this issue is not a big deal, but to the person who wrote the comments, to the editors who let this appear in the Daily, to you and me, our ignorance shows how little respect we have for each other. We are tired of sitting in class listening to people trying to justify these stereotypes. We are tired of being in social groups where racial jokes are passed around like pieces of gum. We are tired of walking down the streets hearing slurs being yelled out of passing cars. We are tired of ignorant people using racial slurs as everyday language. We are tired of people not having the guts to stand up for what they know is right. We are tired of people making fun of their own people.

We ask the Daily to address racial intolerance and racial slurs in a meaningful, ongoing manner. A regular column on this topic would help create an environment where all students, faculty and staff feel a part of the community. Devoting more space to these issues also supports the university's commitment to celebrating diversity by creating a safe place for people to express their differences. The "Just Sayin'" column caused the opposite effect by producing feelings of alienation, frustration, fear, anger and sadness. In a world where there is a supposed to be emphasis on diversity, this is proof racism is alive and thriving. Sadly, this has been "our adventure at Iowa State University."
Yesterday, the
Daily
published an apology, explaining that the editorial staff mistook "squintey" for "a central-Iowa colloquialism for ground squirrels" -- "squinny":
Lovett: 'Just Sayin' error brings racism to light
.
You can perhaps call this ISU's "chink in the armor" moment. Of course, there are those who are still sticking to the squirrel thing. Or is it a chipmunk? Whatever:
Letter to the editor: "Squintey" is Iowa slang for chipmunk
.
I've never heard of a "squinny" before. But I have been told on occasion, with some variation, that I have "squinty" eyes. It wasn't a compliment.
This might seem like such a minor issue to get worked up about. But I've seen enough crap like this on other campuses to know that it's always the prejudice, discrimination and stereotypes that get started and passed off as harmless jokes that usually lead to further disrespect, dehumanization and worse.
Props to the Asian American students (and their allies) at Iowa State University for standing up and speaking out on this. You're not alone.