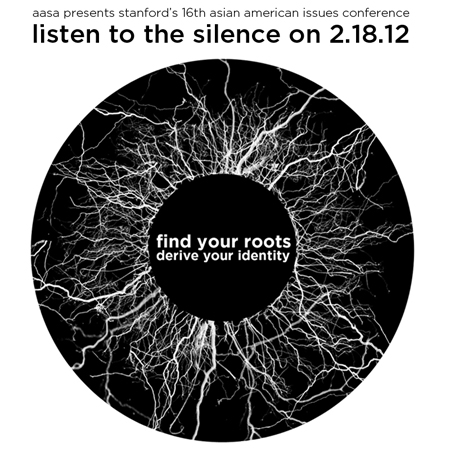 Bay Area students, this one's for you. Stanford University's 16th
Listen to the Silence Conference
is Saturday, February 18. "Find your roots and derive your identity" by attending some workshops and listening in on this year's keynote speaker, David Monkawa, co-chair of the Nikkei for Civil Rights and Redress in the late 1980s and early 90s. More info:
Listen to the Silence: Find Your Roots, Derive Your Identity
Saturday, February 18, 2012

Registration: 8:30AM - ongoing
Workshop & Keynote Speaker: 9:30AM-4:45PM
Activities Fair: 5PM-6PM
Concert & Dinner: 6PM-9PM (TIMES SUBJECT TO CHANGE)
Location: School of Education/Cubberley Auditorium & Toyon Hall, Stanford University

The United States is one of the world's most diverse nations with a wide array of nationalities, races, ethnicities. Because of this, one's identity can easily come into question. It is not only important to remember our roots, but also to not be afraid to take pride in them. When asked to check a box identifying our ethnicity, many of us feel constrained by the limited options available to us, such as with the 2010 Census. Many found this difficult because our individuality cannot possibly be contained by any general classification. An identity is like a fingerprint: no two are the same.

At this year's Listen to the Silence conference, we hope you will come to a better understanding of your own identity and the identities of those around you, and how that guides your efforts in advancing equality in your communities. Almost two-thirds of Asian Americans were born in a foreign country, carrying parts of their homeland with them to their experiences in America. We all have our own stories and experiences, seen through the lenses of our respective generations, where we grew up, our gender, sexuality, so there clearly is no formula for this so-called "identity." However, even though we come from different walks of life, there are many different aspects of self that we all share, united by common causes. With this, we can find a common ground to unite in solidarity, build coalitions within and beyond our ethnic communities, and together, be active participants in advocating for social justice.
Click here
to register and for more information.