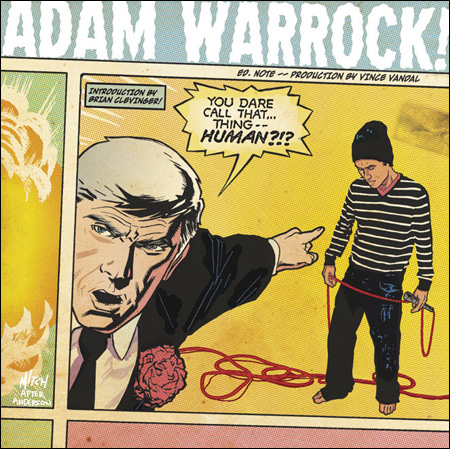 Good news, hip hop geeks.
Adam WarRock
, "the Internet's foremost comic book rapper," just dropped his second full-length album,
You Dare Call That Thing Human?!?
, a nerdcore celebration of beats, rhymes and comic books.
You Dare Call That Thing Human?!?
features production by Vince Vandal, artwork by Mitch Gerads, and an introduction written by Brian Clevinger, and appearances by heralded nerdcore and indie acts MC Lars, Doctor Awkward, Dual Core, Beefy, and more, as well as comedian Baron Vaughn.
Here's a preview:
I've been listening to the album over the last week and enjoying the hell out of it. Sure, the rhymes with references to some of the more obscure comic book allusions fly way over my head, but it's still loads of fun. And Adam WarRock is a damn fine emcee.
You can order
You Dare Call That Thing Human?!?
as a physical CD, or download the digital album directly from Bandcamp
here
. For more information on Adam WarRock, his music, and where he'll be touring next, go to his official website
here
.