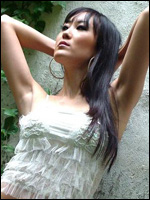 All right. Hell of a weekend. Since Saturday, I've been bombarded with emails, messages and tweets regarding an individual named
Jenny Hyun
, who recently went on a crazy-ass racist Twitter rant in which she, among other things, called for a world with no black people. Yeah. It got pretty ugly.
So... you might be asking:
who the hell is Jenny Hyun
?
She's a songwriter for the Kpop groups SNSD and Chocolat. I actually know of her as a singer -- and quite a talented one, from what I remember. I wrote a couple of posts about her several years ago when she was trying to break in as a solo artist. I had no idea she was also an out-of-her mind racist.
The whole thing was apparently set off by Floyd Mayweather's tweet about Jeremy Lin. Ironically, Ms. Hyun took it upon herself to respond to Mayweather's racist remarks... with her own tirade of racist remarks.
Asian Junkie
has a full account of her "bigoted verbal diarrhea." Go
here
to get mad.
At some point, realizing that her statements were just a little bit offensive, she issued an
"official apology to the black community"
, in which she doesn't actually apologize at all, in any way. Shortly after that, this troubling
statement
appeared on her blog:
apology to all
Posted on February 19, 2012 by Jenny Hyun

Jenny Hyun has been admitted to a hospital today. She is a paranoid schizophrenic and has been battling mental illness, a debilitating disease for many years.
Friends and family of Jenny want to extend their sincere apology for any harmful statements made verbally or via the web that Jenny has made while she was in the height of a psyshosis episode. We appreciate your understanding during this difficult time for her.
I don't know -- do you buy it? She apparently has a self-described history of mental illness. Well, it's clear that something's wrong with Jenny Hyun. I'm not sure what a "psyshosis episode" is, but it doesn't quite explain away or justify the ugly attitudes revealed in her behavior. This is a pretty naked display of racism, and it kind of blows your mind.
This woman is harboring a lot of hate in her heart, and you just witnessed the meltdown. If she's truly interested in advancing her career, well, that's probably not happening now. YOMYOMF's got more here:
Jenny Hyun & Her Call for the Eradication of Black People
.