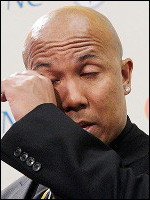 Yesterday at an emotional press conference, a tearful Hines Ward announced his retirement after fourteen seasons in the NFL as a Pittsburgh Steeler:
Hines Ward retires from NFL
.
The 36-year-old receiver was recently released from Pittsburgh's roster, along with some other veterans, in the team's attempt to get below the salary cap.
Rather than putting on another team's uniform, Ward decided to end his career -- which included two Super Bowl rings, a thousand receptions and over 12,000 receiving yards -- as a Steeler:
"I can say I'm a Steeler for life and that's the bottom line, that's all I've really ever wanted," Ward said.

Ward holds every significant franchise receiving record, including receptions, receiving yards and touchdowns. His 1,000 career catches rank eighth all-time and he is one of two players with at least 1,000 receptions and two Super Bowl rings.

The decision comes three weeks after the 36-year-old was released by the Steelers in a salary cap maneuver. Ward says he was contacted by several clubs but never had any formal discussions. He insists there are no hard feelings for his release, understanding that football is a business. As if to prove the point, Ward embraced Steelers owner Art Rooney II after stepping away from the podium following the announcement.

"Thank you [Mr. Rooney] for giving a small-town boy from Forest Park, Ga., a chance," Ward said.
I don't think he was fielding any serious offers from other teams, but it would have been weird to see Hines War wearing anything other than the black and gold. So let the debate begin: has Hines Ward's career earned him a spot in the Hall of Fame?