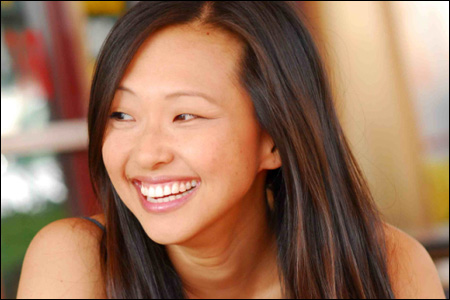 Still catching up on a bunch of stuff... This news is from last month, but I would be remiss if I didn't pass along the good news that actress (and friend to this blog) Joy Osmanski was
recently cast
in the NBC comedy pilot
Next Caller Please
. She'll play a radio producer:
Joy Osmanski has been cast in NBC's comedy pilot Next Caller Please. The Lionsgate/Universal TV project, written by Stephen Falk, centers on Colorado public radio personality Stella Hoobler (Collette Wolfe), who is thrilled when she's recruited to co-host a radio show for Orbit Satellite Radio in New York City until she meets her co-host, Cam Doherty, an abrasive, hard-drinking, sexist loose cannon. Osmanski, repped by TalentWorks and Bohemia Group, will play the producer who recruits Stella.
The bad news is, the show will star Dane Cook. Not much of a fan here. But I'm certainly happy for Joy, who is a cool-ass lady. (You may have most recently heard her voice on the Fox animated show
Allen Gregory
.) Fingers crossed that the pilot gets picked up.