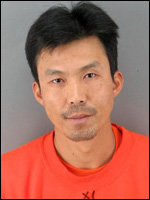 So that house in San Francisco's Sunnyside neighborhood, where five family members
were found dead
last week? Turns out, it wasn't a murder-suicide, as originally speculated. According to police, the murders were committed during the course of a robbery.
35-year-old Binh Thai Luc was arrested Sunday morning on suspicion of five counts of homicide, with special circumstance allegations of committing multiple murders, robbery and burglary.
Initial reports said that the five victims were shot, but court documents describe the murder weapon as a "blunt instrument." In fact, it sounds like most of the details first reported last week were wrong:
Luc, 35, a Vietnam native, was arrested Sunday after five bodies were found March 23 at a crime scene so gruesome and complex that it took authorities days to identify the victims and a suspect. Police initially thought they were dealing with a murder-suicide.

The victims were Yuan Ji "Vincent" Lei, 32; his parents Hua Shun Lei, 65, and Wan Yi Xi, 62; his sister Ying Xue Lei, 37; and his girlfriend Chia Huei Chu, 30. The special circumstance of lying in wait applied to Vincent's death.

Prosecutors have said it was unlikely they will pursue the death penalty. They also have not discussed a possible motive.

Prosecutors also said that a blunt instrument was used in the killings in the city's Ingleside District but gave no other details.
Binh Thai Luc will be represented by a private lawyer after a judge denied the public defender's request to represent him, citing a conflict of interest between this case and a previous case involving Luc's brother. More here:
Binh Thai Luc Gets New Lawyer As More Details Of Ingleside Mass Murder Emerge
.