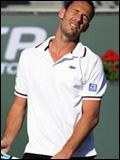 Well, isn't that nice. It's nice when folks are just blatantly, unabashedly racist, as opposed to all that racism of the more subtle, thinly veiled variety.
Over the weekend at the BNP Paribas Open in Indian Wells, California, French tennis player Michael Llodra let his racist flag fly when he lost his cool and yelled a racial epithet at a woman in the crowd.
The spectator, who happened to be Korean American, was a supporter of Llodra's opponent Ernests Gulbis. According to one tennis writer, Llodora called her a "fucking Chinese":
Michael Llodra yells racial epithets at BNP Paribas Open
.
According to tweets from Tom Tebbutt, a former columnist for Toronto's Globe and Mail, caught something Llodra said to a Gulbis supporter.

"Sat very first row - dead centre behind the court for Llodra - Gulbis - heard a lot. Deplorable behaviour by Llodra - read next tweet."

"ML smacked ball out of court, threw racquet, called Gulbis supporter in crowd a "f–king Chinese." I confirmed later with brother of woman."
It's being reported that Llodra called the fan a "fucking Chinese," but
others claim
that he actually called her (in French) a "fucking Chinese cunt." Whatever he said, the guy is clearly an asshole.
Llodra has reportedly been reprimanded and fined $2500 by the ATP for his verbal abuse. And that's it. He apparently has yet to apologize to the spectator in question, and judging from his remarks to the French press, he really doesn't care. More here:
Llodra fined $2,500 for racial slur
.
UPDATE: So you're not quite convinced that tennis player Michael Llodra is an asshole? This pretty much confirms it. During an interview with a reporter from a Chinese news site, he offered this "apology" regarding his remarks:
According to French reporters who interviewed him for L'Equipe, Llodra did not seem to understand why the remarks he made were any worse than any other sort of profanity.

Llodra did not make matters better for himself during an interview with a reporter from the Chinese news Web site SINA.com, in which the Frenchman attempted to apologize for his remarks.

"My words were not aimed at China," Llodra began.

"I love Chinese - I can totally make love with a Chinese girl," he added, before being cut off by the A.T.P. official monitoring the interview. The journalist, who took offense at the remark, said that he did not find Llodra's apology sincere. He added that there had been a great deal of reaction to Llodra's remarks on Chinese social media networks like Weibo.
Alex Lee Barlow, the spectator on the receiving end of Llodra's racist remarks, still hasn't received an apology from him. Don't hold your breath. More here:
Target of Llodra's Racial Slur Says Fine Is Not Enough
.