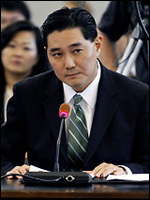 Last week in New Jersey, the Senate Judiciary Committee rejected Phillip Kwon's nomination to the state Supreme Court:
N.J. Senate committee rejects Gov. Christie's Supreme Court nominee Phillip Kwon
.
After hours of questioning and debate, the Democratic-led committee ultimately voted 7-6 against Chris Christie's pick, marking the first time in modern history that New Jersey lawmakers have turned down a governor's choice for the state's highest court.
For Kwon, his bid for the state's highest court ended in stunned silence as Sen. Nicholas Scutari (D-Union), chairman of the committee, cast the seventh and final "no" vote about 6:45.

Kwon declined to comment as he left the room with his wife, Sung Hui "Chris" Kwon. He retained a cool expression for most of the long hearing, but for a brief moment when he choked up over the honor of his nomination during opening remarks.

"I find it difficult to express just how humbled I feel to be sitting here before you today to be considered as an associate justice for the New Jersey Supreme Court," he said.
If confirmed, Kown would have been New Jersey's first Asian American justice. But it was pretty clear early on, amidst the partisan bickering, that this was not going to happen. More here:
Democrats Reject Christie Choice for New Jersey's Top Court
.