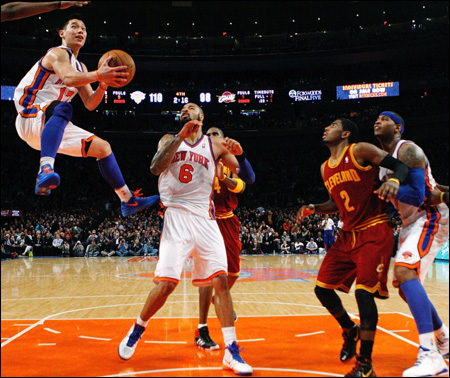 Knicks storm back, beat Cavs 120-103 behind bench
: Last night in New York, Welcome back. Jeremy Lin had 19 points and 13 assists to help the Knicks come from behind, turn things around, and soar ahead in the second half to beat the Cleveland Cavaliers, 120-103.
Chink In The Stands, An Asian American Fan's Notes
: Passing along this beautifully written post by Jen Wang of Disgrasian, reflecting on the rise of Jeremy Lin and what it mans to her as an Asian American sports fan.
Tight-Knit Family Shares Lin's Achievement
: By now, the story of Jeremy Lin's journey to unlikely superstar status is legend, but here's a great
New York Times
piece on his parents, Shirley and Gie-Ming Lin.
Jeremy Lin's rise sparks national discussion on race and racial issues, not just over Asian Americans
: Gil Asakawa notes that one of the coolest side effects of Jeremy Lin's sudden rise to fame has been a very public discussion of complex racial issues.
4 Things The Jeremy Lin Story Reveals About Modern Racism
: "The whole Jeremy Lin story seems to be bringing out a new kind of racism that we're not used to -- a kinder, gentler racism made up of bad puns and well-meaning patronizing compliments."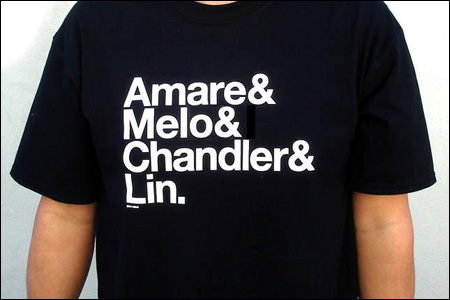 Amare & Melo & Chandler & Lin
: Available from Giant Robot.
Stop the Linsanity insanity
: This commentary by ESPN editor by Lynn Hoppes is being touted as an Asian American perspective on Linsanity, but he sure as hell doesn't speak for me. The accompanying
video
of the discussion between Hoppes, Stephen A. Smith and Skip Bayless is mind-numbingly awful. Seriously, it will make you more stupid for watching it.
Jeremy Lin's Triumph Over Stereotype Threat
: "Stereotype threat is the idea that we are all aware of the stereotypes that exist about our demographic group and we try to avoid fulfilling those pre-existing notions."
Taste the Linsanity
: "I start to think of people not meaning to be racist but lacking the language to speak about Asian Americans, us having endured invisibility for so long, they simply don't know what to say."
Opinion: From role player to team leader: Jeremy Lin and the rise of Asian American leadership
: Scott Kurashige, author of
The Shifting Grounds of Race: Black and Japanese Americans in the Making of Multiethnic Los Angeles
, explains why "Linsanity" is a watershed moment in his lifetime.
Jeremy Lin: His Impact On Changing The Perception Of The Asian American Male
: "Lin is a breakthrough because the Asian American male has always lagged behind in cultural visibility and acceptance. There has been progress in other areas, particularly entertainment, but sports has been the final frontier."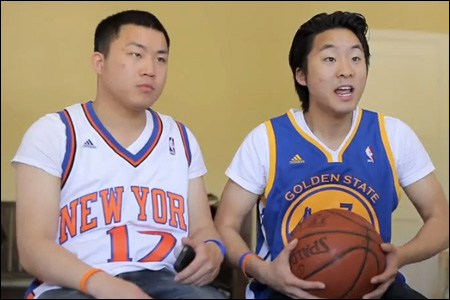 Stuff People Say About Jeremy Lin
: Another one from the Fung Brothers.
Does 'Linsanity' do my Asian heritage a Lin-justice?
"...when I first heard that an unrecruited, undrafted Taiwanese-American point guard had come off the New York Knicks bench to light up the New Jersey Nets, something clicked deep in the primitive part of my brain that, it turns out, was reserved for exceptional performances by Asian-American athletes."
A Passion for Basketball, Made Even Stronger by Lin's Emergence
: "It may have taken the rapid rise of Knicks point guard Jeremy Lin to familiarize the wider basketball world with the idea of a Taiwanese-American point guard, but thriving Asian-American leagues have existed across the country for years."
What CEOs Can Learn From Jeremy Lin
: A couple of business lessons from Jeremy Lin's extraordinary story, and an interview with Michael Chen, CEO of GE Commercial Finance, about his take on the Knicks point guard.
Jeremy Lin ties tabloid record with 20th straight appearance on Newsday sports cover
: On Monday, Jeremy Lin tied a New York tabloid record, appearing on the back cover of
Newsday
for 20th consecutive day.