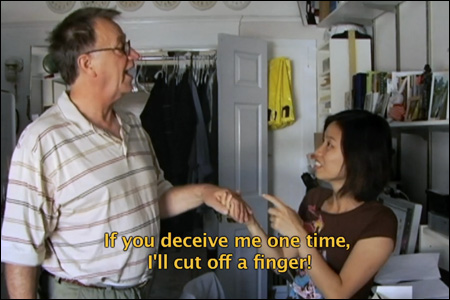 One film that I've heard a lot of buzz about out of South by Southwest is the documentary
Seeking Asian Female
. It looks absolutely
fascinating
.
Director Debbie Lum follows an "eccentric modern love story" between older white man with a shameless case of yellow fever (gag) and his young Chinese bride, and as you can imagine, things get very complicated. It's pretty apparent from the
trailer
that this isn't going to be the fairy tale anyone imagined:
Here's the official description:
Seeking Asian Female is an eccentric modern love story about Steven and Sandy -- an aging white man with "yellow fever" who is obsessed with marrying any Asian woman, and the young Chinese bride he finds online. Debbie, a Chinese American filmmaker, documents and narrates with skepticism and humor, from the early stages of Steven's search for an Asian bride, through the moment Sandy steps foot in America for the first time, to a year into their precarious union. Global migration, Sino-American relations and the perennial battle of the sexes, weigh in on the fate of their marriage in this intimate and quirky personal documentary.
This is Debbie Lum's feature film debut, but she's cut her teeth as an editor on some pretty influential Asian American documentaries like
AKA Don Bonus
and
Kelly Loves Tony
. I'm looking forward to eventually seeing this.
For further information, check out Jeff Yang's recent Tao Jones piece on the film:
'Seeking Asian Female' Explores World of Mail-Order Brides
. And check out the
Seeking Asian Female
website
here
.