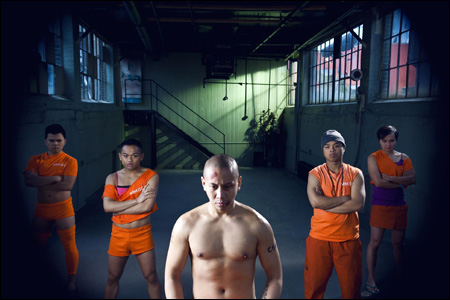 I had a blast hanging out over the weekend at the San Francisco International Asian American Film Festival. For thirty years, they've been bringing the best, latest and most innovative programming in Asian American cinema and beyond, and this Thursday, they're wrapping things up with the Closing Night Gala presentation of the official world premiere of
Prison Dancer
.
Prison Dancer
is an original interactive musical web series created/written by Romeo Candido and Carmen De Jesus, and inspired by the dancing inmates of Cebu. It's described as a "
Glee
-meets-
Miss Saigon
" adventure that paints a fictional portrait of the people behind the prison walls. Here's
Episode 1
:
Here's the blurb from the festival
website
:
In 2009, the spellbinding YouTube video "Dancing Inmates of Cebu" introduced the public to the orange-jumpsuited prisoners of the Cebu Provincial Detention and Rehabilitation Center (CPDRC), a maximum-security prison in the Philippines. This video captured the inmates performing flawlessly synchronized dance moves set to
Michael Jackson's pop hit "Thriller," and had viewers across the globe transfixed by the inmates' passion for dance in the face of unfortunate circumstances. Brilliantly drawing from this pop culture phenomenon, the cutting-edge musical internet series Prison Dancer paints a fictional portrait of the people behind the YouTube legend, producing a multipronged digital experience that is so dynamic and forward-thinking it all but guarantees a viral sensation of its own.

At the center of Prison Dancer is a pop-culture blogger named Matt (Matt Wells), who travels to the Philippines to uncover the human truth behind the YouTube sensation. At the prison, Matt encounters a slew of colorful characters that demonstrate that once the dancing shoes are on, freedom and confinement become relative terms. There is Lola (Jeigh Madjus), the flamboyant destined-to-be choreographer who spends his days and nights practicing dance moves with his loyal sidekicks. There is Cherish (Catherine Ricafort) and Christian (Mikey Bustos), the lovestruck girly-bar dancer and the prison's newest inmate/dance prodigy, who have to fight for their love despite the seemingly unbridgeable divide of prisoner and civilian. Finally, there is the array of supporting characters that populate the prison and lend Prison Dancer its irrepressible charm: Shakespeare (the resident poet), Hookaps (the prison hustler), Oo Oo and NaNa (Lola's minions).

Beyond its distinctive storyline and some musical magic that nearly out-glees Glee, what positions Prison Dancer a sashaying step above the rest is its revolutionary form. Mockumentary, musical, and web series combined, it will combine online episodes, YouTube supplements, video diaries, and interactive elements such as sing-along karaoke segments. For our Closing Night event, this revolutionary form will translate into a "performative cinema" experience that will include video, live performances by cast members, and maestro-led audience participation. A once-in-a-lifetime event, this unprecedented experience rethinks what media is and can be.
Judging from just that first episode, you've never seen anything like this before.
Prison Dancer
is screening this Thursday, March 15 at 7:00pm and 9:15 at New People in San Francisco. For more information, and to purchase tickets (the 7:00 pm screening is Rush Only), go to the SFIAAF30 website
here
. Everybody else can check out episodes on the
Prison Dancer
YouTube channel
here
.