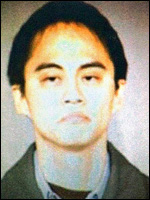 Asians behaving badly... apartment scam edition! Heard about this dude? In New York, police are have been looking for a suspect who rented out an apartment in Queens... to
twelve different people
. And it apparently wasn't even his to rent:
Suspect wanted in Craigslist rental scam
.
Peter Kim advertised his Sunnyside apartment for rent on Craigslist, collected rent from twelve unsuspecting potential tenants, told them all they could move in, then split with the money. One victim showed up to move into her new apartment, only to find other duped tentants -- and the cops -- already there:
Peter Kim allegedly told his 12 victims they could move into 43-01 46th Street in Sunnyside.

He advertised the apartment on Craigslist. Once he had interest, he met with the 12 people from February 22nd though March 1st. He allegedly collected deposits and a months rent. Eight of the victims paid $400, the rest paid a whopping $1,500.

His victims were men and women between the ages of 24 and 49.

One of the victims, Summer Long, showed up at the apartment with all of her clothes, five suitcases, and expected to move in.

She found three men already there. Two were police detectives, and the other, she says, was another victim. The man said that he had one of his two dogs euthanized so he could move into the apartment.
New York City, you've been warned. Don't give a dime to this Peter Kim guy. More here:
Voice PSA: Don't Give a Friggin' Dime To "Peter Kim."
Peter Kim, aka Michael Hong, is described as an Asian male, approximately 5'08" in height, 130-150 pounds. Anyone with information in regard to Peter Kim and these incidents is asked to call Crime stoppers at 1-800-577-TIPS (8477).