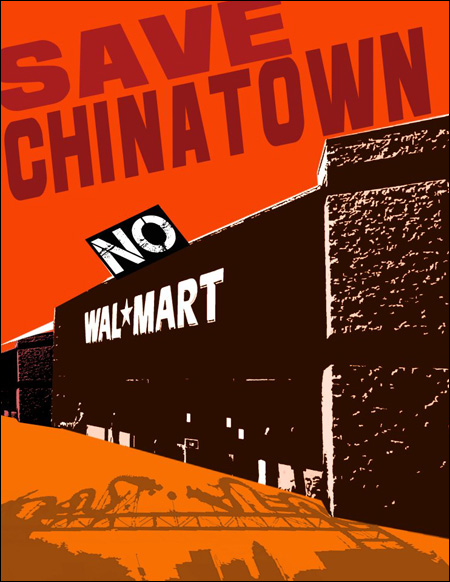 In Los Angeles, community activists are angry that Walmart wants to move into Chinatown to build a grocery-focused store that could decimate small Asian businesses:
Walmart Pushes for First New Store in LA in a Decade - Activists Push Back
The 33,000 square-foot grocery-focused store would be one of their smaller stores but opponents say its development would harm local small businesses and diminish the character of Chinatown.
Word on the street says Walmart has been flooding ethnic press and attending community meetings trying to convince residents that this is good for them.
However, the city council member who represents Chinatown, Ed Reyes, is
introducing a motion
to stop the development. Activists have started a
petition
and a
Tumblr page
to educate the community and gather signatures opposing the development. Click
here
to sign the petition.
On Friday morning, Congresswoman Judy Chu, Assemblyman Mike Eng and API small businesses from Chinatown will hold a press conference at 10:00am at City Hall to speak out against Walmart's proposed grocery store.
Walmart is notorious for setting up shop and putting local retailers out of business as well as having really
crappy, exploitative labor practices
-- paying its workers poverty wages, discriminating against female employees and using sweatshop labor. I'm not much of a fan.
Establishing this smaller store is probably just the beginning; some say Walmart is trying to circumvent existing city ordinances by using Chinatown as a testing ground to expand their empire into Los Angeles. More here:
Walmart in Chinatown: There Goes the Neighborhood
.