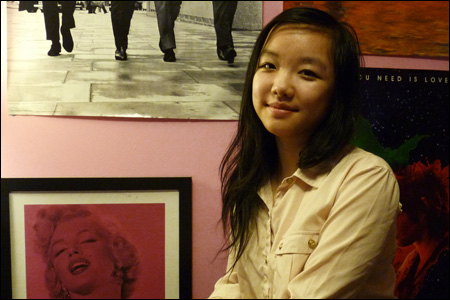 Hey guys, time to meet the
Angry Reader of the Week
, spotlighting you, the very special readers of this website. Over the years, I've been able to connect with a lot of cool folks, and this is a way of showing some appreciation and attention to the people who help make this blog what it is. This week's Angry Reader is Wellesley College student Amanda Zhang.
Who are you?
Amanda Zhang.
What are you?
I'm a third year student at Wellesley College majoring in Sociology and Economics.
Where are you?
Inside the library on a beautiful Friday afternoon. It's finals time.
Where are you from?
I was born in China, but I immigrated to the States at a very young age, so culturally, I'm a second-generation Chinese American. I've spent my formative years in two very different suburbs near Boston, MA and Seattle, WA, which means that people think I'm an anal retentive neurotic when I'm on the West Coast and a laid back, tree-loving hippie when I'm on the East Coast.
What do you do?
Asides from being a student, I'm very involved in the Asian/Asian-American community at Wellesley. I organize with students, staff, and alumnae (shout out to Asian Awareness Month Committee, CSA, and WAA!) to bring socials, lectures, panels, artists, awareness poster campaigns. Last year, I helped coordinate a historical exhibition on WAAM-SLAM, a student of color activist movement at Wellesley in 2001. For the upcoming 2012-2013 school year, I'm a co-coordinator of Wellesley Asian Alliance, an Asian-American political organization whose main mission is to increase Asian American Studies course offerings.
I used to wonder whether it was possible to be a "real activist" on a campus as beautiful and removed like Wellesley's, but I've come to realize that education is also incredibly important. It's important for everyone to be educated about our diverse community and the particular challenges we face, but it's especially important for Asian Americans to understand ourselves and to see ourselves from our own perspective, not the perspective of mainstream (White) America that so many of us grow up with and internalize. Knowledge is the beginning of consciousness, and consciousness is the beginning of reclaiming power.
What are you all about?
Growing up as a kid, I was lucky to have never experienced (or at least remember) any kind of blatant racism or sexism. My classmates and I happily learned from each other's cultural heritage, and most of the smart and popular students were girls. So I never felt like felt like I couldn't achieve academically or socially because of who I was. But understanding how to feel entitled to my own personhood, how to feel rightfully angry when something unjust was happening to me... was something I had to struggle with so I'm driven by the need to reclaim voice, for myself and on behalf of others, in all that I do: in my academic work, in my art, and most of all in my activism.
What makes you angry?
Meaningless political rhetoric. Meanness. Dismissiveness. Hypocrisy. Willful ignorance.