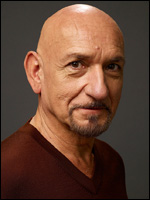 This week, news broke that Ben Kingsley was in talks to play the villain in the next
Iron Man
movie. This set off wild speculation that the Academy Award-winning actor would play Tony Stark's longtime archnemesis from the comic books, the Mandarin:
Kinsgley in talks for 'Iron Man 3' villain
.
For those who aren't fully versed in the
Iron Man
mythos, the Mandarin is pretty much a Fu Manchu-like Chinese supervillain. Straight up comic book yellow peril villainy. Fans have been wondering if he'd making an appearance since even before the first movie was released. I've been kind of dreading it.
However, sources close the production are denying that Kingsley will play the Mandarin. Still, a recent casting call for extras of "Chinese as well as Middle Eastern descents" has set off more speculation:
Most of the Marvel movie news as of late has centered around this summer's blockbuster event, The Avengers, but as that film prepares to open, another one has (relatively) quietly been setting up. Earlier this week, Ben Kingsley was announced for the villain role of Iron Man 3. His casting prompted rumors that the big bad in the upcoming film would be the Mandarin, and though insiders who spoke with Variety were quick to dismiss the idea, a new casting call adds further weight to the theory.

The production is now searching for extras of "all types, all ages & all ethnic descents" in North Carolina for a shoot this Saturday. But what's notable is that the call emphasizes "a special need for those of Chinese as well as Middle Eastern descents." In the comics, the Mandarin hails from China. Iron Man 3 opens May 3, 2013.
More
here
.
Iron Man 3
will reportedly be loosely based on the six-issue "Extremis" arc, which heavily revolves around nanotechnology. So I wonder what they need all the Chinese and Middle Eastern people for...
UPDATE: Looks like Tony Stark is getting in on some of that China money. The Walt Disney Co. and Marvel Studios have announced that
Iron Man 3
will be a co-production with China's DMG Entertainment, which co-finance and distribute the film:
Disney, DMG team up to make 'Iron Man 3' a Chinese co-production
.
Filming in the U.S. is to start in May, and in China in late summer; the movie is slated for release in May 2013.

Foreign films co-produced in China have an easier time getting cleared by Chinese censors and do not fall under the country's annual import cap.

"The popularity of the Marvel franchise globally creates a huge opportunity to deliver fans yet another action packed film," Stanley Cheung, Disney's greater China managing director, said in a statement.

DMG and Disney did not reveal how much DMG would invest in the production, nor did they give specifics about what plot elements would be shot in China. Last week, DMG's chief executive Dan Mintz told the Los Angeles Times that the film's budget was $200 million. A Disney spokeswoman said she had not heard what the budget was to be.
I guess this means it's highly unlikely that the Mandarin will be the villain in
Iron Man 3
. At least, not the evil yellow peril Fu Manchu caricature that comic book fans are familiar with. I don't think that version would go over very well with the Chinese investors...