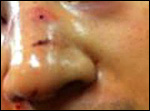 Some disturbing news out of Australia, where a violent,
racist
gang assault on two students aboard a train in Sydney has caused a media firestorm in China:
Chinese students fear Sydney
.
Six people, ages 14-18, have been arrested on a multitude of robbery and assault charges for the alleged on assault on two international students from China on a train between the Central and Rockdale stations this week.
The assault has drawn international outrage after one of the victims, a graduate student known as Xuan, posted about the brutal attack on the Chinese social media site Weibo:
A translation from Xuan's blog on the Chinese social media site Weibo reads: "I really wish all of this is just a nightmare. However, the smell of blood in my mouth and body pains reminds me that this city is so dangerous.

"A gang of hooligans attacked us. Our noses are fractured and our bodies are covered in blood. My friend's cheekbone was crushed. They attacked us with glass and burnt us with lit cigarettes. My face is burnt and totally disfigured! Worst of all, I really hated their racist comments.

"They were calling us Asian dogs and pussies while they were beating us. When my friend tried to wipe blood from his nose, a teenaged girl stuffed my friend's mouth with her tampon removed from her pants."

Another woman passenger, who was also targeted by the thieves, allegedly told the attackers to "rob them, they are Asian and they have got money."
Xuan reportedly suffered from a fractured nose and burns from a lit cigarette. The worst part about all this, aside from the disturbing violence, is that this guy and his friend were getting their ass beat on traveling train, and not a single person tried to stop it or intervene on their behalf.
Unless the Australian government is actively trying to discourage international students and visitors from China, it needs to get its act together and take care of this
racist
s#!t. More here:
'This city is so dangerous': outrage in China over Sydney train assault
.