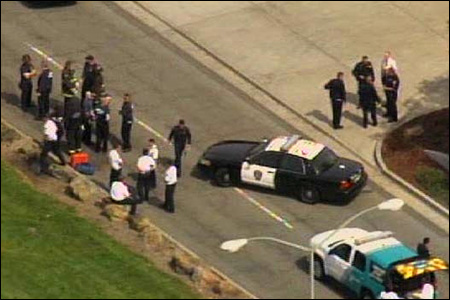 UPDATE: Police have arrested the suspect in the shooting rampage that killed seven people and wounded three this morning at Oikos University, a religious school in Oakland. The gunman has not yet been identified, but he is described as a Korean man in his 40s who was apparently once enrolled at the school as a nursing student:
Five dead in shooting at Oakland university; suspect arrested in Alameda
.
* * *
Dammit. A gunman reportedly opened fire at a private university in Oakland this morning, leaving multiple victims wounded and possibly killed. Details are scarce, but the suspect is described as an
Asian man
in his 40s:
Gunman opens fire at East Oakland college
.
The shooting happened at Oikos University, a religious school, at about 10:40am. According to authorities, as many as eight have been shot and there maybe be fatalities. The gunman is still apparently at large, and the area is under lock down:
Angie Johnson, 52, of San Leandro, said she was doing errands in the industrial complex when she saw a young woman leaving the building with blood coming from her arm and crying, "I've been shot, I've been shot."

Johnson said while she waited for medical attention the woman told her the shooter was a man in her nursing class who rose up and shot one person at point blank range in the chest before he started spraying the room with bullets.

"She said he looked crazy all the time," Johnson said the victim told her, "But they never knew how far he would go."

Johnson said the victim "had a hole in her right arm the size of a silver dollar with blood coming down."
This. Again. Police describe the suspect, who might be a student, as male, Asian, with a heavy build, wearing khaki clothing. Anyone with information should Call 911 or 510-777-3321. More on this as it develops...