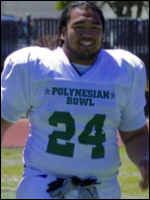 In Fremont, California, police have arrested a teenager who fatally stabbed a high school football player at party on Saturday night:
Newark Memorial ballplayer stabbed to death at Fremont party
.
18-year-old Osana Futi, a star running back and linebacker at Newark Memorial High, reportedly got caught up in a fight that turned into a stabbing outside of a house party. He died at the hospital.
Futi was just forty days away from graduating high school:
Osana Futi, 18, was rushed to a hospital after being found with stab wounds near Hyde Park and Yellowstone Park drives around 11:20 p.m., said the police and Newark Memorial Athletic Director Rich Swift. Futi, a senior, was pronounced dead about 1:20 a.m. Sunday at the hospital.

Fremont police arrested one man Sunday night on suspicion of homicide and three male juveniles as accessories to the crime, said Sgt. Jeff Campbell. Detectives were interviewing them late Sunday and additional details were not available.

Officers responded to the area after receiving complaints about a large party and reports of gunshots, said Fremont police Sgt. Curt Codey.

It wasn't immediately clear what may have sparked the violence.
Anyone with information about the killing is asked to call Fremont police at 510-790-6800. More here:
Slain Teen Osana Futi Remembered as Loving Son, Devoted Friend, Talented Athlete
.