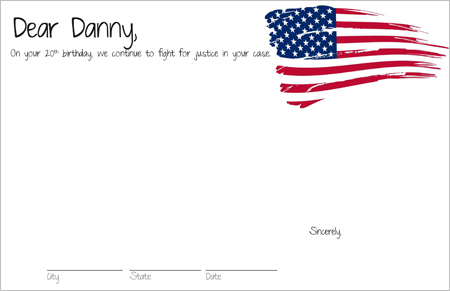 OCA-NY presses on with ongoing efforts to call attention to the tragic death of 19-year-old Private Danny Chen. It was recently announced that any court-martial of the eight individuals charged in connection with Danny's death would take place in the United States at Fort Bragg, North Carolina.
The fight for justice continues, and they're asking for public support with their
Birthday Card Campaign
. Please consider signing and sending a card, calling for justice, in observance of Private Chen's upcoming birthday on May 26. In mid-May, they'll deliver the cards to Members of the House and Senate Armed Services Committees in Washington, D.C.
Here are more details on how you can take part:
1) Create a birthday card for Private Danny Chen.

• You can create your own card, buy a card, or email oca-ny@oca-ny.org for a sample template. Be as creative as you can!

• The messages on these cards should reflect our continued fight for justice and reiterate our demand that the courts-martial of the 8 individuals take place on U.S. soil.

2) Mail your card to OCA-NY, P.O. BOX 3233, Church Street Station, New York, NY 10008. We must receive your card no later than May 14, 2012.

3) Prior to mailing the cards to us, people have the option of also uploading images of their cards online at: http://justicefordannychen.tumblr.com/submit.
They'll be collecting cards until
May 14, 2012
. Don't let Private Chen's death get swept under the rug, and don't let his case fall through the cracks. For further information, and to see other birthday cards, go to the #justicefordannychen
Tumblr
, and view the campaign's Facebook event
here
.