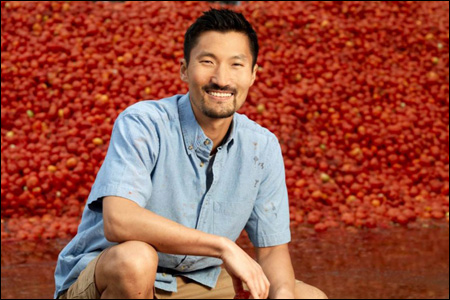 He found the Immunity Idol. He outwitted, outplayed and outlasted the other Cook Islands castaways. And perhaps most importantly, he ran around half-naked on national television for 39 days. So what's Yul Kwon up to now?
This week, the
Survivor
winner returns to television to host the new PBS series
America Revealed
, which explores the systems, networks, and people that make our modern lives possible, including how America produces food, generates electricity, transports people, and manufactures products.
Here's a 30-second
promo
for the show:
Yul says that hosting this show was one of the most challenging experiences of his life, because "it's required me to spend months away from my newborn daughter, get hit by hundreds of tomatoes at close distance, and repeatedly confront my fear of heights, claustrophobia, and motion sickness."
He also notes that, as far as he knows, this is the first time that a national series about America will be hosted by an Asian American man. Seriously, how often does that happen? Regrettably, as far as I know, Yul does not take off his shirt at any point during the show.
America Revealed
premieres Wednesday, April 11 on PBS. Watch it and learn something. To see more footage, watch a six-minute promo video
here
. For further information, check out the PBS website
here
. You can also read Yul's recent interview with
EW
here
.