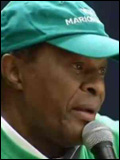 Oh hell no. Washington D.C. Councilman Marion Barry has an Asian problem. He made that pretty clear this week, when he made disparaging remarks about Asian business owners and what they're apparently doing to his part of the city:
Barry: Barry Comment Critical of Asian Business Owners
While celebrating his Democratic primary victory in Ward 8 on Tuesday night, Barry delivered remarks calling out
"these Asians coming in and opening up businesses and dirty shops."
Whaaaaaat.
Barry spoke of changes in the ward, saying he's worked hard for economic development in the city's poorest ward and will continue to do so and saying something needs to be done about Good Hope Road and Martin Luther King Avenue.

He also seemed to criticize Asian shop owners who operate many small stores in the District.

"We got to do something about these Asians coming in and opening up businesses and dirty shops," Barry said. "They ought to go. I'm going to say that right now. But we need African-American businesspeople to be able to take their places, too."
Clap clap clap. Congratulations on your primary victory, Marion Barry. And now, your strategy for winning the election: pitting the city's races against each other.
It should be noted that this the same Marion Barry who is perhaps most famous for getting busted by the FBI in 1990 -- as the mayor of Washington D.C. -- on drug charges. Caught on tape smoking crack cocaine! And that's the tip of the iceberg. How this man keeps getting elected to absolutely anything is a mystery.
So when Marion Barry, of all people, says with authority that the Asians and their dirty shops "ought to go"... No. Hell no. Councilman, it's you who ought to go. More here:
Report: Marion Barry: 'Dirty' Asian stores
.
UPDATE:
Marion Barry apologizes for anti-Asian remarks
As recently as this morning, Marion Barry refused to back down from his
racist
comments about "these Asians coming in, opening up businesses, those dirty shops." But by the afternoon, faced with mounting criticism about his remarks, the councilman apologized via
Twitter
, saying he is "very sorry for offending the Asian American community." But he did note that his comments were taken out of context.
Are you buying this? Look, I get anyone trying to address the problems in his community, and Ward 8 has many. But singling out Asian business owners is careless and incendiary. Whether he was being thoughtless -- "I admit, I could and should have said it differently" -- or knew exactly what he was saying, either way, it's inexcusable for a politician to say something like that then simply dismiss it as a "bad choice of words."