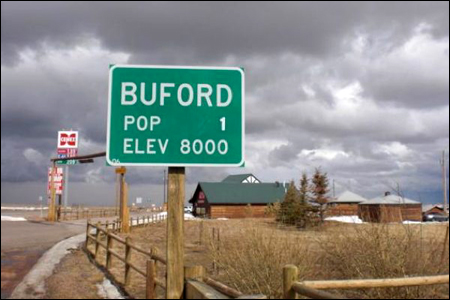 Weird! Last week, it was reported that the town of Buford, Wyoming -- population: 1 -- was sold to a Vietnamese businessman for $900,000:
Buford, Wyo., population 1, sold for $900,000 to two Vietnamese businessmen
.
The unidentified buyer reportedly flew in for the auction and got himself a deal on the self-proclaimed "smallest town in the United States," situated on a remote, unincorporated stretch of Interstate 80 in southeast Wyoming.
The town is home to one man: Don Sammons, who will be shutting down the Buford Trading Post. But no word on what happens next:
On the Buford Trading Post website, Sammons explained that he moved to Buford from California with his wife and son in 1980. Several years ago, his wife died, and his son grew up and moved away. Sammons describes himself: "He's a man with his own zip code, his own town, his own gas station and trading post." He encouraged travelers to stop by and say hello.

Buford, Wyoming's second-oldest town, was established in 1866. Years ago, it was a railway town of 2,000 that hosted both the famous and infamous -- Presidents Ulysses S. Grant and Franklin D. Roosevelt and outlaw Butch Cassidy. But when the railroad faded away, so did the residents.

Sold on Thursday were five buildings, U.S. Post Office boxes, a leased Union Wireless cellular tower, 10 acres of land and "a parking area previously used by an overnight shipping company for nighttime trailer switches." In its listing, the auction house noted that up to 1,000 customers drive through the tiny town during peak summer months.
I won't pretend to know much about Wyoming, but I can't imagine what could be worth flying in from overseas and buying an entire town. What do you know that we don't, mysterious Vietnamese businessman? More here:
Wyoming's Buford, self-proclaimed smallest town in US, sells for $900K; lone resident retiring
.