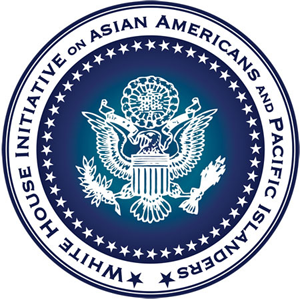 This week, the White House honored nine Asian American and Pacific Islander leaders and organizations as "Champions of Change," chosen as part of the White House Initiative on AAPIs
"What's Your Story" Video Challenge
.
The challenge aimed to highlight the personal stories of AAPIs across the country who have impacted their community through their dreams, experiences, and dedication to a cause. The White House received over 200 videos and 35 essays. From these entrees, nine were chosen to represent their communities as part of White House's Champions of Change program.
The White House AAPI "Champions of Change" are:
Terisa Tinei Siagatonu
Siagatonu is a spoken word artist/arts educator and community organizer from the Bay Area. A graduate of the University of California, Santa Cruz, she is currently the Project Director for PIER: the Pacific Islander Education and Retention project at UCLA, an access project that exists to combat the low matriculation rates of Pacific Islander students into higher education by offering services ranging from free tutoring, mentorship, and peer advising to Pacific Islander high school students in Los Angeles. Her emergence into the spoken word world as a queer Samoan women and activist has granted her the opportunities to perform on stages ranging from Boston's Cutler Majestic Theatre to the Women's Stage at the 2010 Oakland PRIDE Festival. She has worked as a poet mentor with Youth Speaks, the leading nonprofit organization for spoken word performance and literary arts education in the country, as well as on grassroots levels with groups such as One Love Oceania, a queer Pacific Islander women's organization from the Bay Area, the Samoan Community Development Center of San Francisco, Empowering Pacific Islander Communities of Los Angeles, and Engaging Education of the University of California, Santa Cruz. Her devotion to her Pacific Islander people and her work with college access and spoken word poetry helps her to drive the development of Pacific Islander youth, advocating for self-empowerment so they can create sustainable impact in their communities, starting with themselves.

Harry Leong and Rebecca Chin of The Philadelphia Suns
Leong is the president of the Philadelphia Suns, a volunteer-led, youth organization, which focuses on community building by offering educational, cultural, social, athletic, and service opportunities for Asian American youth. The Suns serve more than 500 Philadelphia youth annually in teaching teamwork, building self-esteem and learning leadership skills, through a variety of activities and programs including sports, volunteer opportunities, and participating in traditional Chinese lion dance performances. Harry is currently an outreach center director, and has formerly taught in inner-city elementary schools and worked as a public accountant. He has led the Suns since 1989 and has fostered the philosophy of servant leadership in helping to develop productive community members and leaders of tomorrow.

Rebecca Chin has been a member, leader, and creative talent within the Philadelphia Suns, a volunteer-led, youth organization, which focuses on community building by offering educational, cultural, social, athletic, and service opportunities for Asian American youth, since high school. The Suns' use of sports and service to develop personal responsibility and a culture of teamwork and healthy competition left an indelible impression on Rebecca. As an avid athlete and University of Pennsylvania graduate, she has experienced firsthand the correlation between cultural identity, sports and personal excellence, and the tremendous positive impact on both the individual and community. The strong relationships forged from the organization can be summed up in a commonly echoed phrase, "Once a Sun, Always a Sun." Rebecca is dedicated to creating opportunities for the Suns' members, especially young women, to challenge society's notion of themselves through sports and community leadership, and to help them develop the confidence that will carry over into all aspects of their lives.

Elena Chang and Suma Reddy, The Asian Pride Project (APP):
APP aspires to foster greater visibility, pride, acceptance, unity, and harmony for all lesbian, gay, bisexual, and transgender (LGBT) Asians & Pacific Islander (API) people in our families, cultural communities and beyond, no matter where we are. We believe in the power of sharing, connecting, and relating to give API families and communities the support they need when struggling with the challenges of our sexual and gender identities in the API cultural context. Asian Pride Project is led by a small group of dedicated and passionate leaders of New York City's Asian American LGBT organizations, including Q-Wave -- an Asian and Pacific Islander group for those who identify as lesbian, female bisexual, or transgendered, GAPIMINY -- the Gay Asian and Pacific Islander Men of New York, and SALGA-NYC -- the South Asian Lesbian and Gay Association of New York City.

Chu Huang, The Chinese Immigrant Student Leadership program (ChISL)
The Chinese Immigrant Student Leadership program (ChISL) is a pilot leadership program for Chinese immigrant students in the Chinese-Sheltered English Instruction Program at Charlestown High School in Boston, MA. The program seeks to help the students develop as leaders by focusing on building the students' capacity to effect positive changes in their school. The program is the result of a partnership between Charlestown High School and the Boston Chinatown Neighborhood Center (BCNC), a non-profit community-based organization.

Paul (PK) Kim
Kim is the founder of Kollaboration, a 501(c)3 non-profit organization dedicated to empowering the community through entertainment. Its main annual event is a talent show which takes place in 15 cities and draws over 20,000 people annually. He is also a standup comedian, a regular at The World Famous Laugh Factory in Hollywood, and has performed at over 70 universities.

Nidhi Chanani
Chanani is an artist who creates illustrations that capture the everyday romantic and whimsical moments in life. In a fast paced society that is saturated with a variety of media, her work reminds people to recognize those moments. As an Indian-American in the field of art and she actively creates work that represents diverse communities. Nidhi connects with a wide audience that is eager to be represented, which demonstrates the need for strong female Asian voices within the arts. Her work inspires aspiring artists young and old to pursue creativity and to recognize that art can be their voice and path in life. Nidhi was born in Calcutta and currently draws and dreams in San Francisco with her husband and two cats.

My Linh Vo
Currently a doctoral student in clinical psychology at John F. Kennedy University in California, Vo is developing her skill set to provide culturally-responsive services to underserved, underrepresented, and marginalized individuals and families. She is passionate about her profession, rooted in her Vietnamese American immigrant background, and proud of her family history. She hopes to honor her family, teachers, mentors, friends, and many others who have come into her life through her community involvement, leadership, and advocacy work.
For more information about the "What's Your Story" Video Challenge winners and the "Champions of Change," go to the White House Initiative on Asian Americans and Pacific Islanders website
here
.