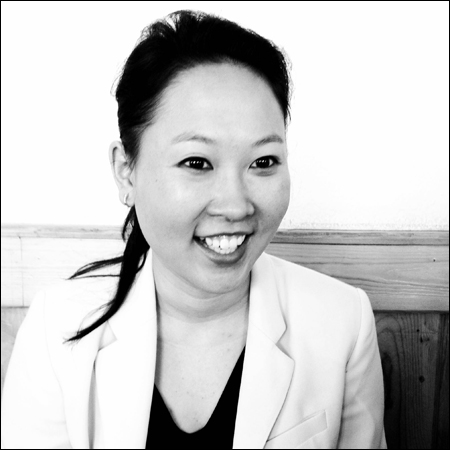 You know what's up. Time to meet the
Angry Reader of the Week
, spotlighting you, the very special readers of this website. Over the years, I've been able to connect with a lot of cool folks, and this is a way of showing some appreciation and attention to the people who help make this blog what it is. This week's Angry Reader is Florence Yu.
Who are you?
My mom told me I was "Florence Yu," when I started kindergarten. This was surprising because, up until then, I was under the impression that I was, "Eva Yu." Turns out I had a middle name! It was really neat having two identities at the age of four. It was not unlike discovering the holy union between peanut butter and apples.
**My mom wants everyone to know that I'm also a, "Wan," (雲) which means "cloud." It's a rare last name from Hainan. I'm sort of using this to plug my search for long lost relatives.**
What are you?
A poor scholar with a penchant for collecting vinyl toys. A pseudo-middle child with three sisters and a brother (so I've got issues). A child of a single immigrant (bad-ass) mother. A feminist. Someone who lets her inner moppet take over way too much. Perpetually amused.
Where are you?
Inside my office at the
Asian Pacific American Legal Center
, Member of Asian American Center for Advancing Justice, located in Los Angeles, California. My little sister told me that sitting too much could potentially increase my posterior region by an unspecified width.. so I'm standing as I type this.
Where are you from?
New York City! The borough of Manhattan, around the East Village and the Lower East Side. I actually grew up with a lot of Puerto Rican, Dominican, and Bengali friends, so I didn't have a very good grasp on Asian American culture (despite being relatively close to Chinatown). Living in Los Angeles for undergrad didn't change that perception. It was't until grad school in San Francisco that I discovered my Asian American identity.
In fact, when I was running for VP of our Asian Association up in the Bay, my platform was, "I really really want to learn about being Asian American."
What do you do?
I am a staff attorney at the above-mentioned non-profit organization and primarily responsible for overseeing our intake staff. We primarily focus on serving the AAPI population in California. My specialties are foreclosure prevention and public benefits. Before becoming a staff attorney, I was an Equal Justice Works AmeriCorps Legal Fellow, which is a nationwide community service corporation dedicated to serving the most needy.
The neatest aspect of my work is being able to provide in-language legal advice to our callers. Most people don't really think about how being Limited English Proficient in this country can really affect immigrant families. Sure, a lot of places use language lines to support their legal services, but as a lawyer, it's important to build trust with your client. By speaking their language, the clients are comforted by the fact that I am at least aware of the immigrant experience, and that nothing will be lost in translation.
I am so thankful that my mom and grandparents insisted we speak Cantonese at home. Without their Cantonese-only systems enforced at home (and an endless loop of Stephen Chow movies), my clients wouldn't be able to get one-on-one legal advice.
When I have time, I volunteer with 826LA to help develop a love for reading and writing in kids.
When I'm not making a pitch for sainthood, I'm probably at some concert or art show.
What are you all about?
Trying to be a good plant. Not in the secret service kind of way, but in the leaving-something-positive-behind-on-this-planet-kind-of-way. John Green said humans are so often caught up in trying to leave a mark in this world, that they don't realize the scars left behind. I'm not about creating something permanent or long lasting. I just want to create something that co-exists and thrives with people to grow a better future. Even if I fail at that, I just hope that I've nurtured great relationships and have somehow made lives a bit happier.
What makes you angry?
People who don't check their privilege. It happens everywhere and a lot of people do it. I'm guilty of this too and actively work on checking myself before I act. It's that sense of privilege that's tied to so many other things I'm angry about with this world: lack of compassion, environmental disasters, human rights abuses, civil rights for some but not all, failing our children, inadequate healthcare, apathy, etc.