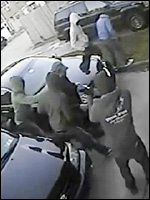 In the Philadelphia area, an upsurge in home invasion robberies targeting Asian business owners has alarmed authorities enough that they've resumed meetings on the issue and are giving safety pointers to Asian Americans:
Cops alarmed about upsurge in attacks on Asian business owners
.
The regional task force of law enforcement authorities was originally formed in 2008 when home invasions against Asian business owners spiked. The cops learned that criminals were following business owners to their homes because they thought Asians kept large amounts of money there.
After police arrested two of the Philadelphia crews responsible for the majority of the 2008 attacks, things seemed to settle down. But robberies against Asian business owners have kicked up again, and this recent spate has authorities looking for another crew:
Reed has said that criminals have targeted Asian business owners because they believe Asians keep money in their homes rather than in banks. The criminals also think Asians may not report the crimes, possibly because of a language barrier, he said.

According to a federal criminal complaint, Murray, the thug from whom authorities learned of the pattern of attacks, "initially got the idea to rob 'Chinese people' from his associates, including Cheron Humphrey, who had been robbing 'Chinese people who owned stores for months.'" Murray said he and his associates robbed "'Chinese' citizens because 'Chinese who owned stores had a lot of money and took it home each night,'" the complaint said.

At a January meeting between the task force and Asians at the H Mart supermarket in Elkins Park, Walker offered these safety tips: Alter your routine, don't display valuables, call 9-1-1 and go to a public place if you see anything suspicious, and avoid being alone.

Capt. John McGinnis, of the Northeast Detective Division, doesn't think criminals are targeting business owners based on their race, but rather from "word out on the street" that the victims "have a lot of money." He says home invasions against business owners have been occurring since he joined the department about 40 years ago.

"It comes and it goes," he said. "You [arrest] a gang that robs them," and then it stops. "If they're successful, they go back to their neighborhoods" and tell others "and others try it."
To everyone with businesses in the area, or who knows someone doing business in the area, please take note, stay vigilant and be careful. More here:
Crime gangs that targeted Asians
.