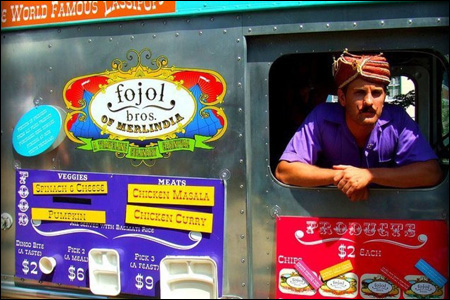 Got a heads up about the Fojol Brothers, a food truck that roams the D.C. area offering Indian, Thai and Ethiopian fare. Not content with just selling the food, the owners -- who are white -- are serving it up with a side of Orientalist schtick:
Fojol Brothers Food Truck Denies Racism Charge
.
The truck's gimmick, which has drawn the ire
more than a few
folks, involves wearing fake mustaches and brightly-colored turbans, playing Punjabi music and other culturally insensitive nonsense. Owner Justin Vitarello says that "no more than five" people have brought up the truck's racist implications.
This
online petition
begs to differ:
Justin Vitarello doesn't want to listen when we say his business's gimmick is hurtful and offensive. He denies that white people wearing turbans and fake mustaches and playing Punjabi music while serving Indian food is stereotype and mockery, and justifies it by saying "no more than five" people have complained that it's racist. Fojol employees also sport rastacaps and go by stage names like "Dingo" and "Ababa Du," hailing from "the magical lands" of "Merlindia" and "Benethiopia".
These guys should hook up with
Ashton Kutcher
. They would make quite a team! Typical hipster bullshit, totally colorblind -- and I mean that in the worst way -- of the privilege that makes you think this is okay.
Sign the petition
here
, and show the Fojol Brothers that indeed, there are way more than five people who find their cultural appropriation less than amusing.