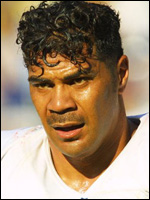 Whoa. Former longtime NFL linebacker Junior Seau was found dead this morning of an apparent suicide. He was 43:
NFL legend Junior Seau found dead at his California home
.
According to police, Seau's girlfriend found him unconscious at his home in Oceanside, California with a "self-inflicted gunshot wound to the chest," and a handgun found near his body:

Seau's girlfriend called 911 at 9:35 a.m. reporting a possible suicide, said Oceanside police Chief Frank McCoy. Officers found Seau in a bedroom with a gunshot wound to the chest. Efforts to revive him were unsuccessful.

A handgun was found near his body, and police are investigating the death as a suicide, McCoy said.

"Our hearts and prayers of the city go out to Seau's family," the chief said.
Seau played in the NFL for twenty years for teams including the Chargers, Miami Dolphins and New England Patriots. he was a ten-time All-Pro and 12-time Pro Bowl selection before retiring in 2010.
It's a sad tragedy for the friends and loved ones of a football icon. More here:
Junior Seau dead in apparent suicide
.