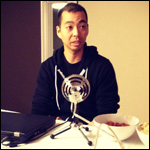 All right, friends. I am pleased to announce a new venture in Angry Asian America... after much planning, discussion and coordination, I am venturing out into the realm of podcasting. Audio! Talking! Recording! I know -- so two-thousand-and-late.
Sound and Fury: The Angry Asian Podcast
is an interview show where I get to sit down and talk with friends and folks who are doing interesting things and making stuff happen in the Angry Asian Nation. It will have a strong focus on art, media and culture, but certainly not limited to these areas.
This has been something I've wanted to do for a long time. Recently, I finally resolved to get off my ass, stop waiting for the right moment, hit record and just do the damn thing. So I hope you'll excuse some of the clunky technical issues while we figure out what the heck we're doing.
So without further ado, here's the first episode...
SOUND AND FURY
Episode 1: Ryan Suda, Blacklava

In this premiere episode, I hung out with Ryan Suda of Blacklava, the Asian American t-shirt company that's celebrating its 20th anniversary. We talk about turning twenty, controversial shirts and crappy Abercrombie & Fitch designs, among other things.

download | subscribe | iTunes

Some notes about this episode:
Big thanks to Ryan. Special thanks to Sabzi for the music. And to everybody else, thanks for listening. If you dig it, please
subscribe
, spread the word and check back for future episodes.