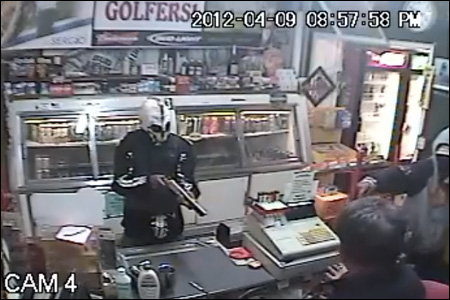 Last Friday in Ann Arbor, Michigan, police arrested one of two men suspected of robbing a grocery store at gunpoint last month:
Ann Arbor police arrest man suspected of robbing Broadway Party Store
.
20-year-old Joseph Bailey was reportedly arrested after lengthy foot chase, and charged with armed robbery, possession of a shotgun and assaulting, resisting and obstructing a police officer.
Here's surveillance
video footage
of the April 9 robbery:
The arrest comes just days after Esther Choi, whose family has owned the Broadway Party Store for over 30 years, spoke before the Ann Arbor City Council, calling for increased police presence and expressing frustration over the lack of response to repeat robberies.
Choi says her father has been robbed at least six times over the last ten years -- all instances involving some sort of deadly weapon. Last month's robbery was the final straw:
Daughter of store owner robbed at gunpoint: 'Our family has been robbed over and over again.'
Police are still searching for the second man in the robbery. Anyone with information related to that suspect is encouraged to call Det. Chris Fitzpatrick at 734-794-6930 ext. 49324 or the Ann Arbor police anonymous tip line at 734-794-6939.