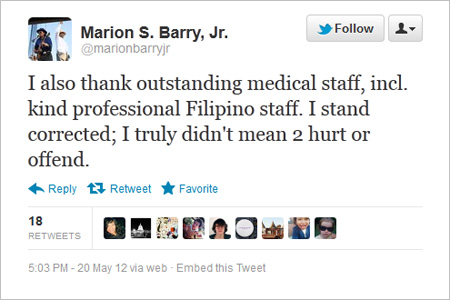 Oh man. This is one of those headlines you read and you really hope that it's not just a funny joke... and hallelujah, it's not:
Marion Barry has change of heart after being saved by Filipino hospital staff
.
Yes, D.C. Councilman Marion Barry, just weeks after making
disparaging remarks
about the overabundance of Filipino nurses in the city's hospitals, finds himself in the hospital with a life-threatening blood clot, getting treated by -- you guessed it! -- Filipino nurses.
Barry was so grateful, he took to
Twitter
, not only thanking the "kind professional Filipino staff" but also essentially taking back ("I stand corrected") his controversial comments:
Hospitalized in Las Vegas with a blood clot this weekend, D.C. councilmember Marion Barry made a point to tweet his thanks to the "kind professional Filipino staff" and took back his earlier criticism of D.C. hospitals for hiring Filipino nurses.

"Got a blood clot while waiting on plane in Memphis," Barry posted to Twitter Sunday night. "Taking blood thiner. I thank God it was caught. #thankGodALLthetime"

He added, "I also thank outstanding medical staff, incl. kind professional Filipino staff. I stand corrected; I truly didn't mean 2 hurt or offend."
I don't want to make light of the Councilman's medical condition... but this is too funny, considering his remarks. People were joking that if Marion Barry had a problem with Filipino nurses, he was going to find himself in some trouble if he actually ended up in the hospital. And there you go.
More here:
Marion Barry hospitalized in Las Vegas, tweets apology
.