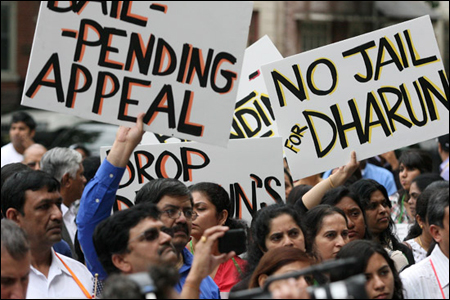 This week in Trenton, New Jersey, hundreds of protestors -- many from the Indian American community -- gathered outside the State House in support of Dharun Ravi, the former Rutgers University student convicted of usign a webcam to spy on his gay roommate, Tyler Clementi, who committed suicide:
N.J.'s bias law focus of protest by Dharun Ravi supporters
.
"If this kid ends up in jail on Monday, my faith will be shaken in this country," said Sandeep Sharma, a family friend and business associate of Ravi's father who helped organize the rally. Organizers estimated that 500 people - many from the Indian-American community — attended.

The group chanted "No jail time for Dharun Ravi" and "We want justice" on the State House steps during the two-hour rally, which was attended by Ravi's parents. They also held signs including one that said, "Witch hunt??" and another that quoted a headline from a newspaper opinion piece by former Gov. James McGreevey — "Don't make Dharun Ravi our Anti-Gay Scapegoat."
Ravi, who was convicted on fifteen charges, including invasion of privacy, witness tampering and bias intimidation, is scheduled to be sentenced in state Superior Court next week. He faces a maximum 10-year prison sentence and possible deportation to India if ordered to serve jail time.
As I've said before, it's hard for me to feel a lot of sympathy of Dharun Ravi or Molly Wei. But I'm also not interested in seeing anyone hang. This situation sucks all around. And in the end, none of this brings Tyler Clementi back. More here:
Supporters Rally for Dharun Ravi a Week Before Sentencing in Webcam Case
.