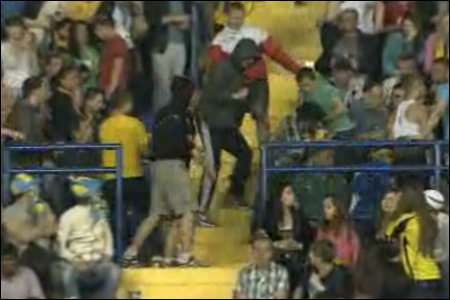 Damn. European football fans take their racism to another level. This is a disturbing segment from BBC's
Panorama
about wildly violent racist fans at a Ukraine soccer match:
Asian fans racially abused in Euro 2012 stadium
.
In this
clip
, filmed at a match in Kharkiv, Ukraine, the crowd viciously gangs up to kick and punch a group of Asian men -- who happen to be there to support the home team. They just pick them out and start beating the crap out of these poor guys, just because they happen to be brown.
The violence is so bad, one former footballer told fans to stay at home, watch the matches on television and keep the hell away from the stadium:
After watching the footage, Mr Campbell said he believes Uefa should not have chosen the countries as hosts of such a prestigious event in the first place.

"I think that they were wrong, because what they should say is that 'if you want this tournament, you sort your problems out. Until we see a massive improvement... you do not deserve these prestigious tournaments in your country.'"

In a statement, Uefa said: "Uefa Euro 2012 brings the spotlight on the host countries and clearly creates an opportunity to address and confront such societal issues.

"Uefa's 'zero tolerance' approach to racism is still valid both on and off the pitch and ultimately the referee has the power to stop or abandon a match should racist incidents occur."
Oh, and did I mention the Nazi salutes? Imagine thousands of Ukrainian fans reportedly giving a spirited Nazi-inspired salute to their team. Well, it certainly sounds like a lovely, welcoming place that I'll sure as hell never visit. More here:
Sol Campbell warns fans to stay away from Euro 2012
.